EEW BHZ51 Series Explosion Proof Transfer Switch (II B, II C, tD)
Details Application Designed for explosive atmospheres Zone 1 and Zone 2;
Designed for combustible dust Zone 21 and Zone 22;
Designed for IIA, IIB and IIC groups explosive atmospheres;
Designed for temperature classifications T1~T6 ;
Designed for explosive hazardous locations such as oil refinery, storage, chemical, pharmaceuticals, textile, printing, military industries etc.
Certified Authentic With Complete Certificate
Description
Model Code

Features
Built-in transfer switch, used in electric circuits with current below 25A, as a power supply to introduce switches, and can control motor starting, stopping, etc.;
This product is a 3-pole switch, which can be used as a 2-pole switch. If the 4-pole switch housing is required, the specifications must be changed accordingly.
The outer casing is die-casted with ZL 102 aluminum alloy, and the surface is electrostatically sprayed with high pressure;
Steel pipe or cable wiring can be used.
Technical Parameters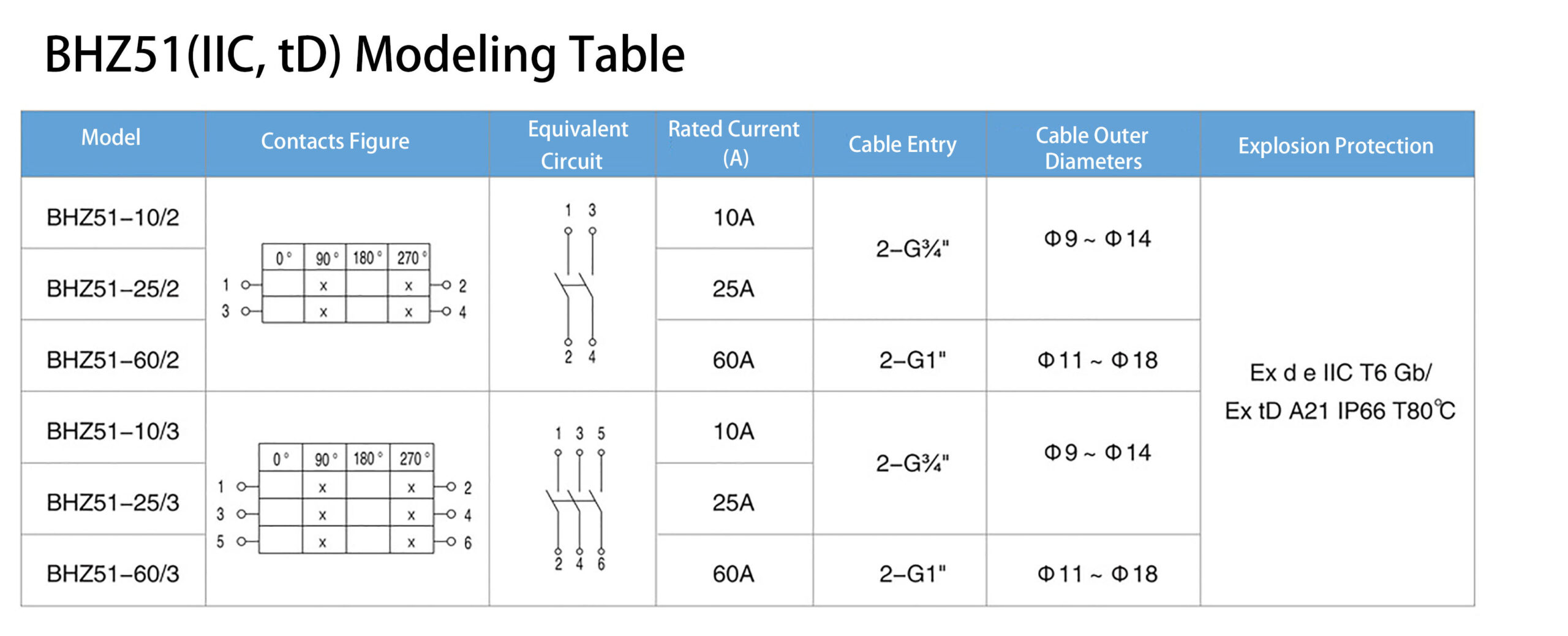 BHZ51(IIC, tD) Technical Parameters 
1  Compliance with: GB3836.1, GB3836.2, GB3836.3, GB12476.1, GB12476.5, IEC60079-0, IEC60079-1, IEC60079-7,  IEC61241-0,  IEC61241-1;
2  Explosion-proof mark: Ex de IIC T6 Gb/tD A21 IP66 T80℃;
3  Rated voltage: 220V/380V;
4  Current Rating: 10A, 25A, 60A;
5  Protection level: IP66;
6   Corrosion resistance: WF1;
7   Cable entry:  G3/4″-G1″;
8   Cable outer diameters: Φ9mm~Φ18mm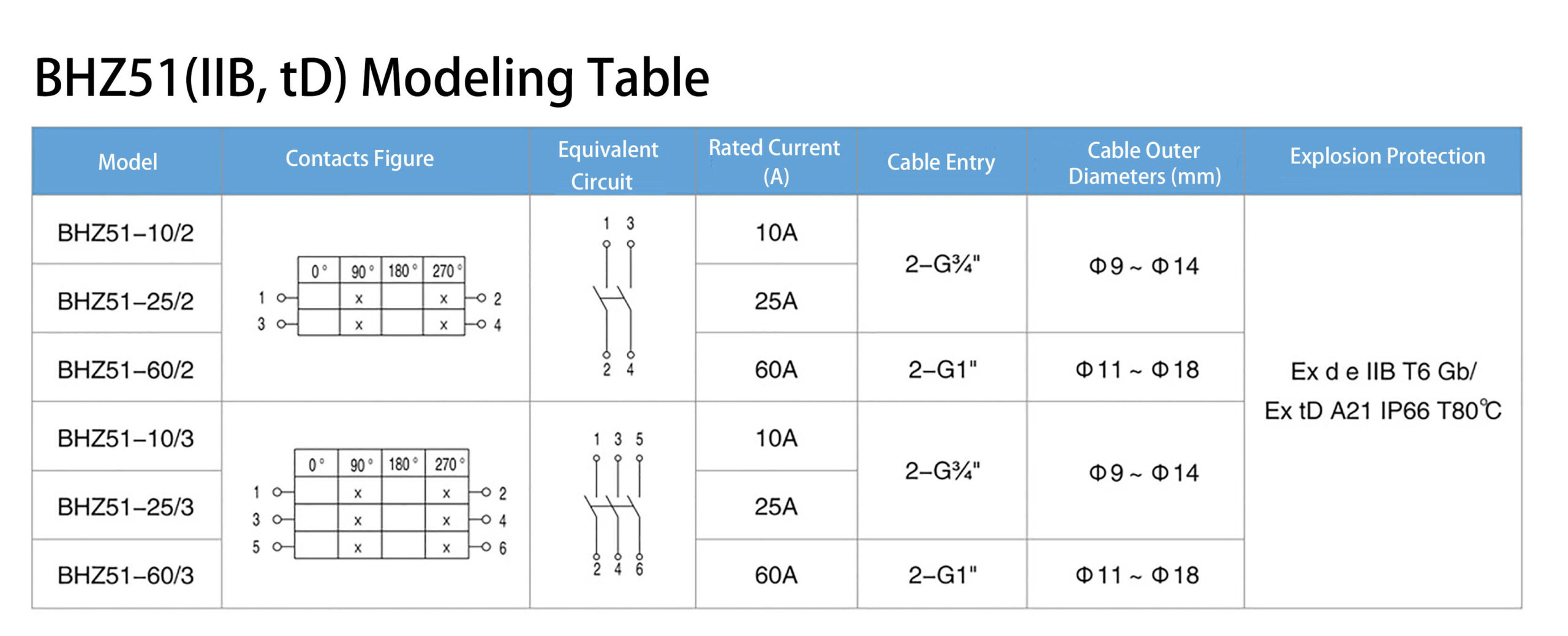 BHZ51(IIB, tD) Technical Parameters 
1  Compliance with: GB3836.1, GB3836.2, GB3836.3, IEC60079-0, IEC60079-1, IEC60079-7,
2  Explosion-proof mark: Ex de IIB C6 Gb/tD A21 IP66 T80℃;
3  Rated voltage: 220V/380V;
4  Current Rating: 10A, 25A, 60A;
5  Protection level: IP66;
6     Cable entry:  G3/4″-G1″;
7   Cable outer diameters: Φ9mm~Φ18mm
Appearance & Mounting Dimensions