EEW BQC Explosion Proof Magnetic Starter
Designed for Explosive atmosphere Zone 1 and Zone 2
Designed for Groups IIA,IIB,IIC
Designed for Combustible dust Zone21, Zone22
Designed for Temperature classes T1~T6
Designed for sites with explosive atmosphere such as petroleum exploitation,
refinery, chemistry, medicine, textile, printing, military and military etc.
Description
Model Code

Features
Enclosure is die casted of aluminum alloy, with high voltage electrostatic poder coated surface after shot blasted.
Built-in AC contactor, thermal relay, Defaul tPhase
Recovery changeover switch or pushbuttons.
High breaking MCB and indicating lamp is optional for comprenhensive  magnetic starter.
Can be used to control unfrequent start and stop of AC380V50Hz three  phase asynchronous motor.
With overload default phase, no volt etc. protection.
Normal type cable entries direction is downwards inlet and downwards  outlet, othe rrequriement please indicate.
Steel conduit or able wiring.
Ordering References
Note: 1. please selection according to the control of the motor power, reference pagedown form related parameter choice;
2. integrated magnetic products with high internal fault miniature circuit breaker,
there is the requirement in the order, please indicate the type,
3. "setting current" by the compatibility of thermal relay setting current regulation scope, please specify when ordering. if Does not indicate the product according to the default value setting.
Example: 1. if you need to order dust explosion magnetic starter, was charged with motor power in 7.5kW~11kW, between Ask for motor to realize positive & negatuve control, the order type   BQC-Extd-25/N   ;
2. if you need to order explosion magnetic starter, was charged with motor power in 15kW~18.5kW, requirements between products Own circuit breaker, the order type   BQC-G40(   B)
Technical Parameters

Executive standard:: GB3836.1, GB3836.2, GB3836.3, GB12476.1, GB12476.5, IEC60079-0, IEC60079-1, IEC60079-7, IEC61241-0,  EN61241-1
Explosion-proof mark: Ex d e II C T6 Gb/  ExtD A21 IP65 T80℃;
Built in component : AC contactor, thermal relay, self resetting universal transfer switch, button, terminal block;
Rated voltage: A380V;
Rated current: 9A, 12A, 18A, 25A, 32A;
Protection grade: IP65 ;
Explosion-proof grade: WF1 ;
Cable entry: G1″~G11/4″;
Cable outer diameters: Φ11mm~Φ25mm

Executive standard:: GB3836.1, GB3836.2, GB3836.3, GB12476.1, GB12476.5, IEC60079-0, IEC60079-1, IEC60079-7, IEC61241-0,  EN61241-1
Explosion-proof mark: Ex d e IIC  T6 Gb/  ExtD A21 IP65 T80℃;
Built in component : AC contactor, thermal relay, self resetting universal transfer switch, button, terminal block;
Rated voltage: A380V;
Rated current: 9A, 12A, 18A, 25A, 32A;
Protection grade: IP65 ;
Explosion-proof grade: WF1 ;
Cable entry: G1″~G11/4″;
Cable outer diameters: Φ11mm~Φ25mm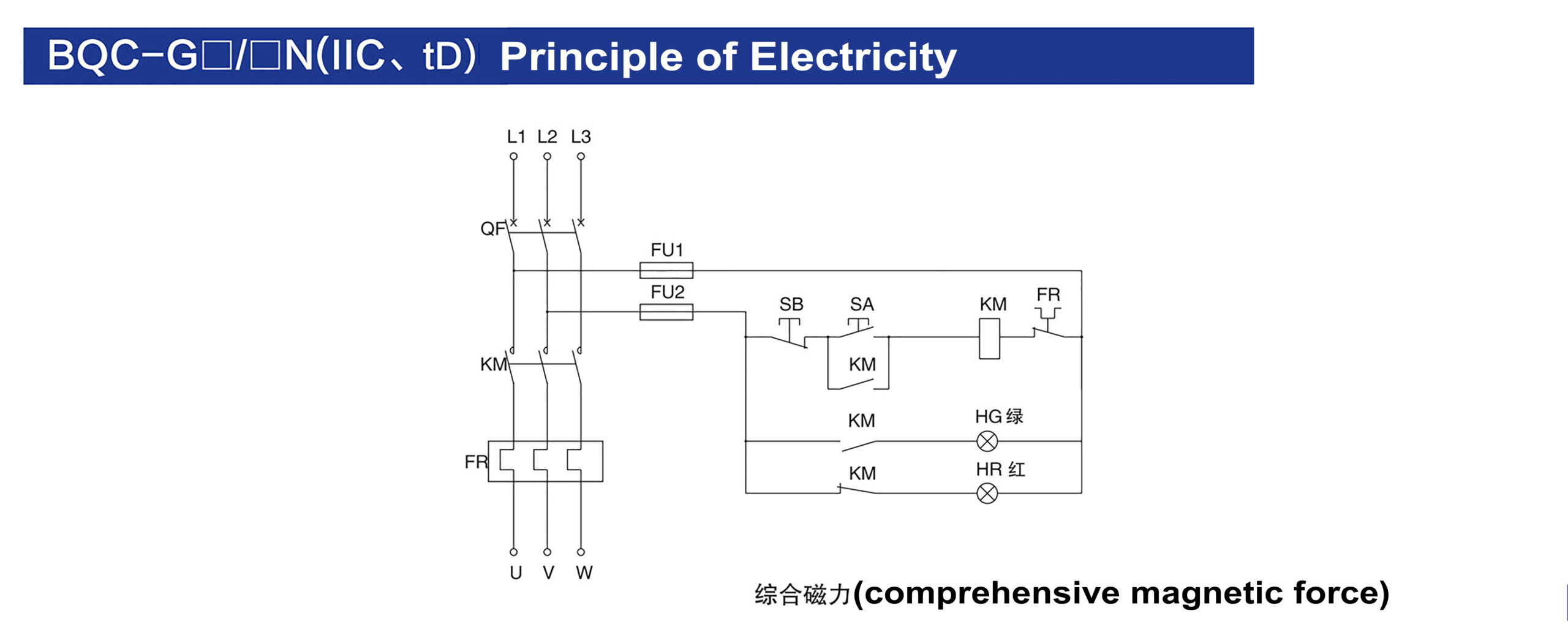 Selection Table, Appearance & Mounting type
Selection Table


Appearance & Mounting type