EEW BDZ52 Series Explosion Proof Circuit Breaker (II B, II C, tD)
Details Application Designed for explosive atmospheres Zone 1 and Zone 2;
Designed for combustible dust Zone 21 and Zone 22;
Designed for IIA, IIB and IIC groups explosive atmospheres;
Designed for temperature classifications T1~T6 ;
Designed for explosive hazardous locations such as oil refinery, storage, chemical, pharmaceuticals, textile, printing, military industries etc.
Certified Authentic With Complete Certificate
Description
Model Code
Features
1  The enclosure is made of aluminum alloy by high pressure casting, and the surface is shot blasted by high voltage electrostatic spraying;
2 The product of this series is of composite structure, the main chamber is of flameproof structure, and the wiring chamber is of increased safety structure;
3  Built in high breaking miniature circuit breaker or plastic case circuit breaker, which can be opened and closed by operating the handle on the housing cover;
4  Overload, short circuit, long voltage protection, and infrequent switching on and off of electrical devices and lighting circuits under normal conditions;
5  Distribution of electric energy and protection of lines and power supply equipment from overload, short circuit, undervoltage and other faults, as well as infrequent starting, short circuit and undervoltage protection of motors;
6  Conduit wiring or cable wiring.
Ordering References
Rain cover should be equipped with when used outdoors.
When order, please indicate the loop number of distribution panel, related current of each circuit and poles of breaker. Please indicate the
function of the leakage; If need main switch, please indicate the current pole, the direction, specification and number of inlet and outlet.
For example: If you need BDZ52 explosion proof Circuit Breaker, Rated current 32A, 4 poles, downwards inlet and outlet, the model shall be "BDZ52–32/4".
Technical Parameters
BDZ(52(IIB, tD) Technical Parameters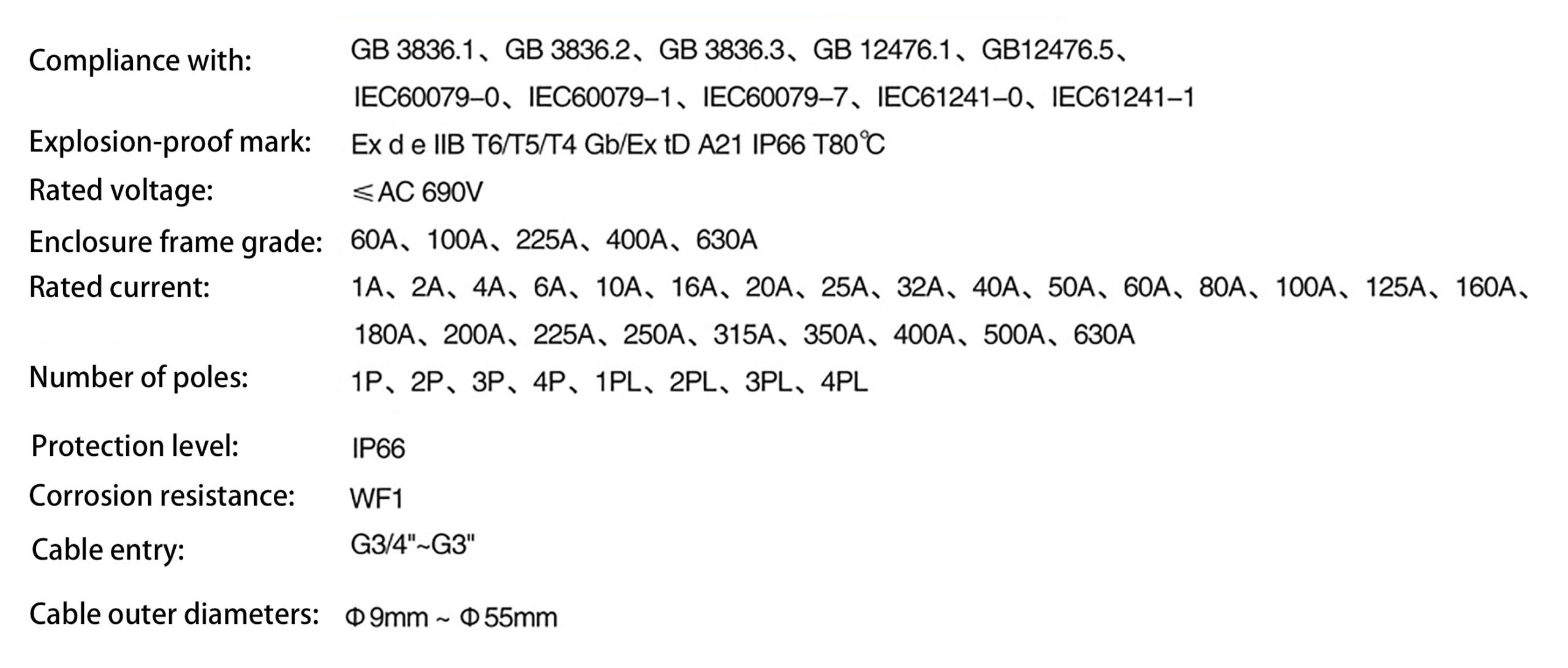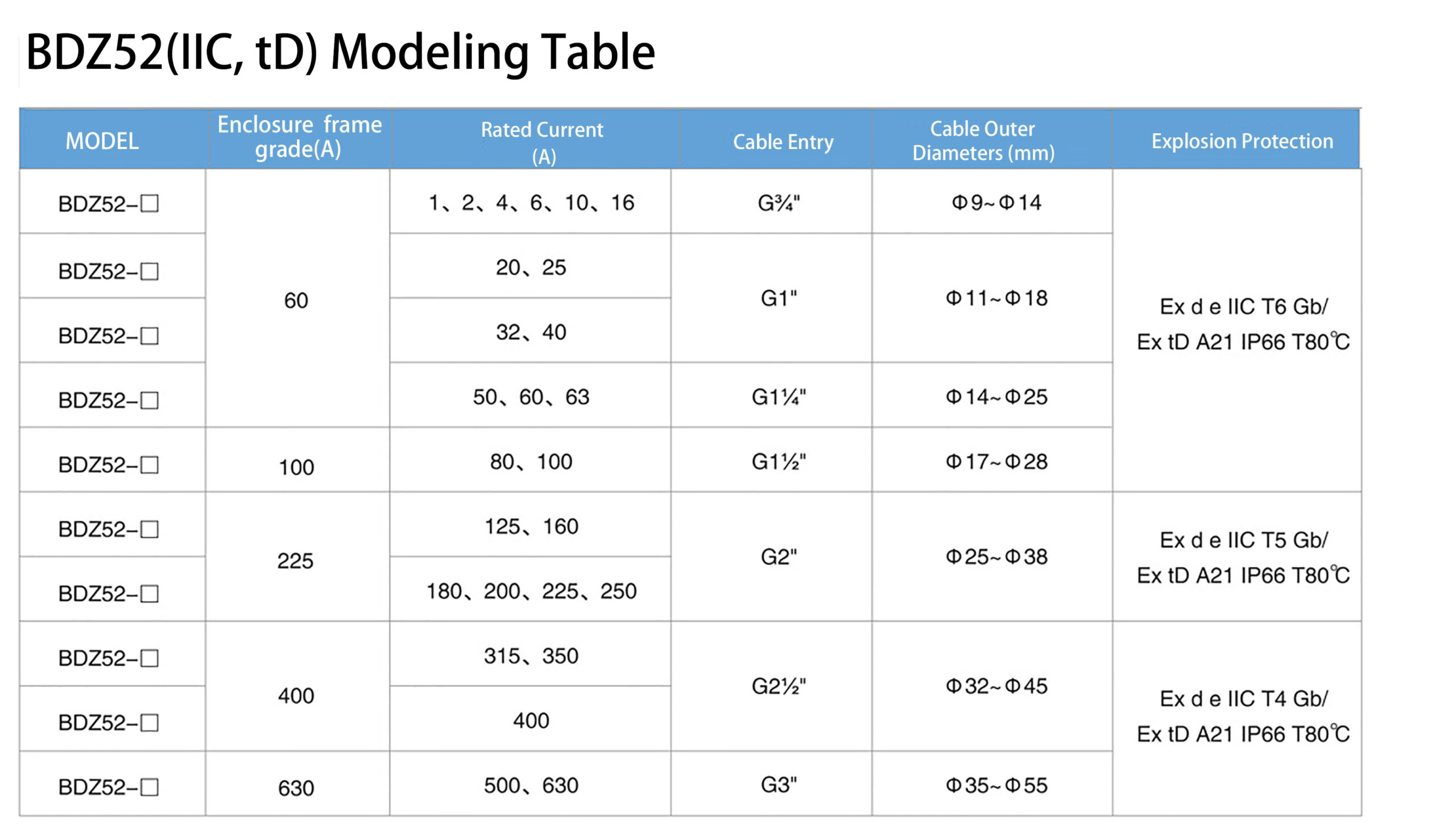 BDZ52 (IIC, tD) Technical Parameters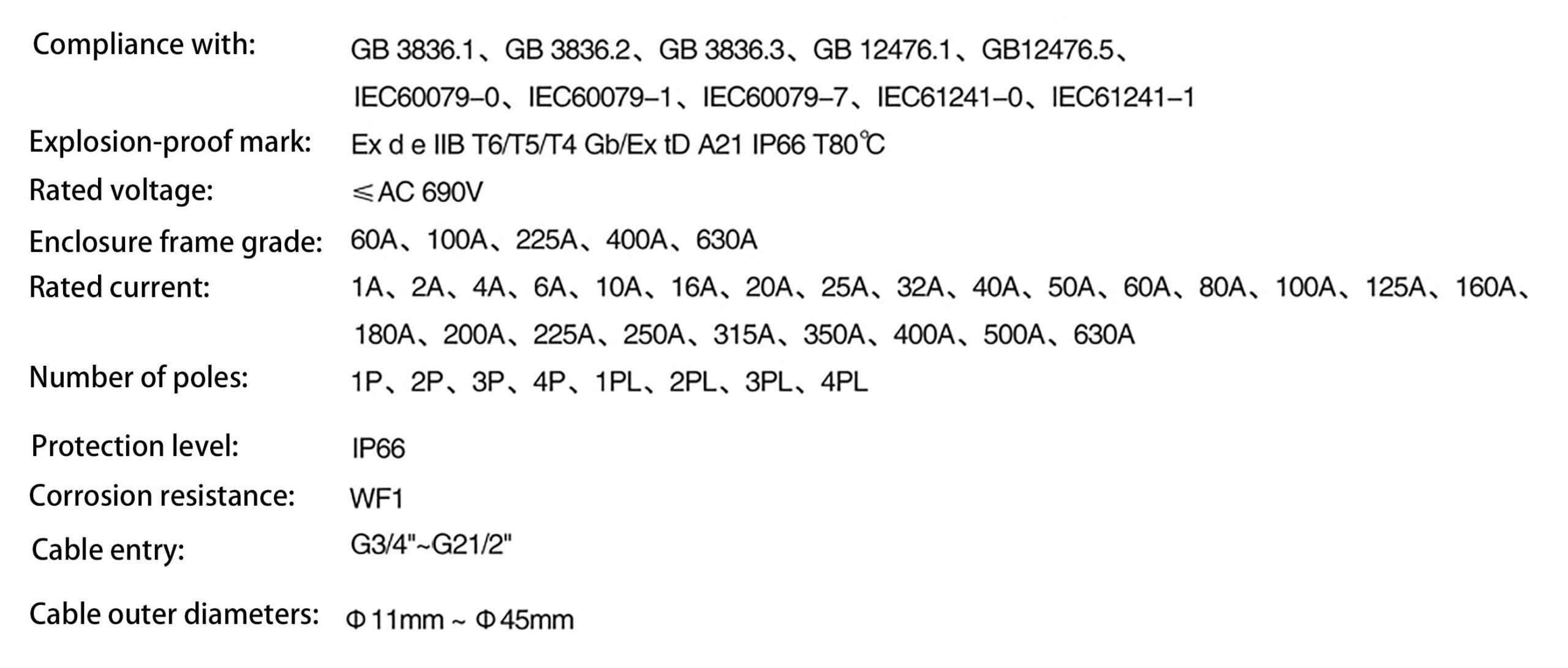 Appearance & Mounting Dimensions