EEW BHY Fluorescent Light Fittings
Designed for Explosive Atmospheres Zone 1 and Zone 2
Designed for IIA , IIB and IIC Groups Explosive Atmospheres;
Designed for Temperature Classifications T1~T4;
Designed for Explosive Hazardous Locations Such as Oil Refinery Storage, Chemical, Pharmaceuticals, Military Industries, Etc.
Certified Authentic With Complete Certificate
Description
Model Code

Ordering References
The Lamp is Equipped with Tubes While Leaving Factory, Can be Used While It is Powered.
Only One Tube Works Under Emergency Condition;
Stainless Steel Material Has been Used for All Types, If Need, Please Note While Placing Orders;
Upward Opening Model is Available as Per Request, This Upward Opening Model is Convenient for Maintenance in the Back from the Ceiling with No Need of Front Opening.
For Example: If Need BHY Explosion Proof Front Access Fluorescent Fitting, 2X40W Tubes, Recessed 1 Mounting Type, Electromagnetic, with Emergency Unit, the Model Shall Be: BHY-2 X 40q1J
Selection Table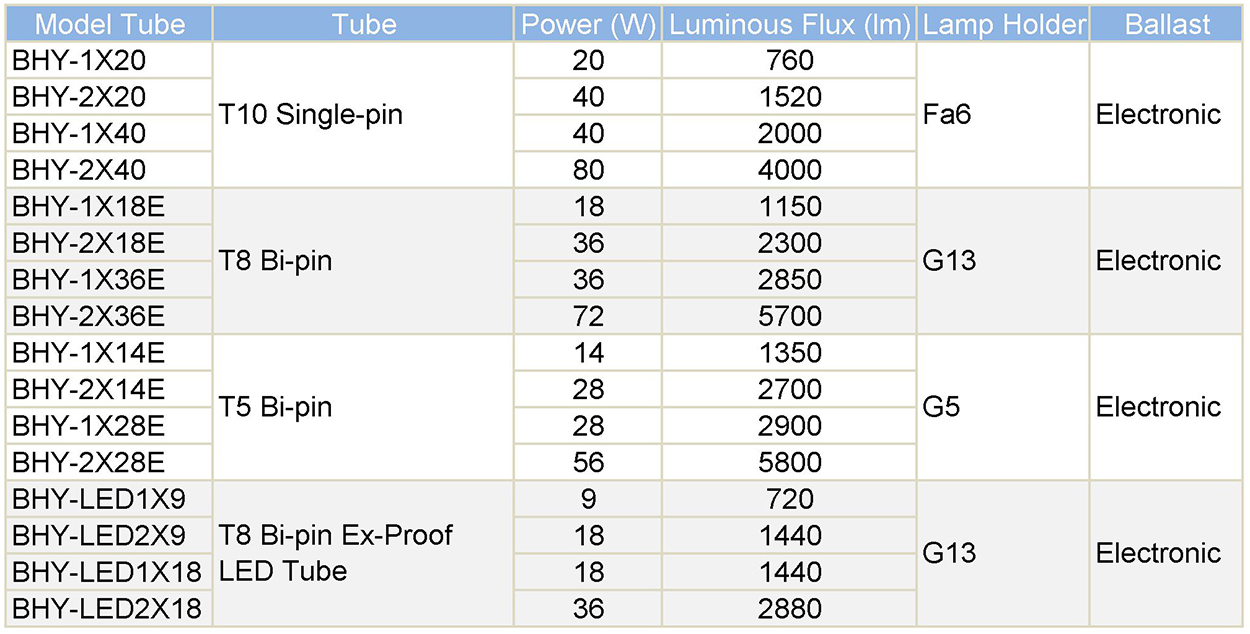 Technical Parameters
Compliance With: GB 3836.1, GB 3836.3, GB3836.9, GB12476.1, GB12476.5
IEC60079-0, IEC60079-7, IEC 60079-18, IEC 61241-0, IEC 61241-1
Explosion Protection: Ex e mb IIC T4 Gb/Ex tD A21 IP65 T80℃
Rated Voltage: Fluorescent Tube AC220V, 50/60Hz; LED AC100~240V, 50/60Hz
Lamp: T10 Single Pin Instant Start Tube(1X20W, 2X20W, 1X40W, 2X40W), Fa6 Lamp Holder, Electronic Ballast;
T8 Bi-Pin Tube(1X18W, 2X18W, 1X36W, 2X36W), G13 Lamp Holder, Electronic Ballast;
T5 Bi-Pin Tube(1X14W, 2X14W, 1X28W, 2X28W), G5 Lamp Holder, Electronic Ballast;
T8 Bi-Pin Ex-Proof LED (1 X 9W, 2 X 9W, 1 X 18W, 2 X 18W) G13 Holder, Electronic Driver Chip.
Ingress Protection: IP65;
Corrosion Resistance: WF1 * WF2;
Cable Entry: G3/4″;
Cable Outer Diameters: Φ9mm~Φ14mm;
Charging Time: ≤24h;
Emergency Starting Time: ≤0.25s
Emergency Lighting Duration: ≥90min.
Features
Enclosure is Made of Bent Sheet with High Voltage Electrostatic Powder Coated Surface;
Stainless Steel Enclosure is Available as Per Request with Polished Surface;
Enclosure and Frame are of Built-In Chain Connection, and Turn Able Reflector Can be Turned, is Easy for Wiring;
Fasteners Adopts Anti-Dropping to Simplify the Maintenance;
Light Fitting is Designed in Double Sealing Structure with Good Water Proof and Dust Proof;
Built-In Encapsulated Ballast with Good Explosion Protection;
Name Brand Fluorescent Tube with Long Service Life and High Light Efficiency;
It Will be Shifted to Emergency Status When Normal Power is Failed;
Special Designed over Charging and over Discharging Protection Circuit Inside Emergency Unit;
Polycarbonate Lens for Ceiling Type and Recessed 1 Type;
The Transparent Cover of Recessed 2 Light Fitting is Made of High Strength Flat Tempered Glass;
Recessed 2 Type with Less Outer.
Cable or Steel Pipe Wiring.